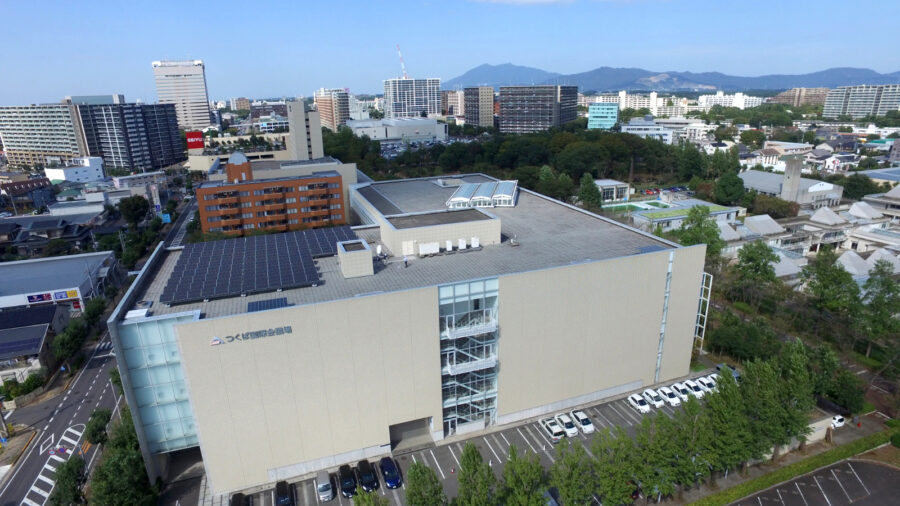 Outline of Facilities
Tsukuba International Congress Center was opened in 1999 with the aim of enhancing the city's research exchange functions.
Mr. ESAKI Leo is the director of the congress center. It has been the venue for many international and national conferences, as well as science events held for junior high and high school students such as "Science Casting" and "Tsukuba Science Edge".
Introductions of the facilities and equipment
A Big hall (For up to 1,258 people)
Two Mid-size halls
Nineteen Conference rooms that can be connected with monitors making it is possible to hold conferences of up to 2,500 people. It has also a multipurpose conference room, Japanese room, rooftop garden, restaurants and more.
Equipment such as A 400 inch wide high-luminance and high-definition projector, simultaneous interpretations for up to 6 foreign languages, and more.
Name
Tsukuba International Congress Center
Address
2-20-3 Takezono, Tsukuba City, Ibaraki 305-0032, Japan
Total area
About 23,000m2
Construction
4-story steel-framed ferroconcrete structure
Accommodation
23 conference rooms (including Main Convention Hall, 1258 seats)
(4 Conference rooms each can be devided into two rooms)
Opened
Since 1. June, 1999
Main Achievements of International Conferences
2016 G7 Science and Technology Ministers' Meeting in Tsukuba, Ibaraki
2018 The 17th World Lake Conference (Ibaraki Kasumigaura 2018)
2019 G20 Ministerial Meeting on Trade and Digital Economy in Tsukuba, Ibaraki
Greetings
Tsukuba is a world-class science city where nearly 20,000 researchers at a total of nearly 300 public and private research organizations engage in scientific research an technological development. Tsukuba International Congress Center serves as a core facility for research exchanges in Tsukuba Science City.
It goes without saying that for scientific progress to occur, dynamic study exchanges to arouse creativity and the imagination of researchers are indispensable: The contribution of this Congress Center to research exchanges is demonstrated by the nearly 4.5 million people who have visited the Center since its opening in June 1999.
The conference rooms, equipped with facilities of international standard, provide the perfect environment for holding a wide range of events and meetings besides International conferences, and the bright, airy and pleasant spaces of the Center are highly conducive to discussions which will result in the birth of new ideas and the exchange of edifying information.
Science is the systematization of knowledge to elucidate the natural rules of the natural world, whereas technology is the application of scientific knowledge for practical purposes, especially for the benefit of society and enterprise and the advancement of medicine. Science and Technology are thus the driving force behind the maintenance and development of modern civilization.
Progress in science has spawned a variety of new technologies that contribute to our modern life, including industrial and economic development and the improvement of health and medical care, the maintenance of infrastructure, the remedying of environmental problems, and the prevention and mitigation of natural and social disasters. Sometimes you will encounter unexpected surprises in basic research. If a revolutionary technology based on your breakthrough knowledge is developed and put to practical use so that technical innovation is realized,significant economic effects may ensue.
I sincerely hope that the results presented at this Congress Center will greatly contribute to the development of science and technology in Ibaraki Prefecture,Japan,and all over the world.
Leo Esaki, Director(Nobel laureate in Physics,1973)